When people are in an automobile or truck accident there are frequently injuries but no broken bones. The person often has a sore neck or a sore back, especially the lower back. Frequently, they have gone to the emergency room right after the collision, been examined, and released with instructions to see their primary care physician if their symptoms persist. If they are lucky, the symptoms go away. We see the ones whose symptoms don't go away.
One of the very frustrating things that happens in these circumstances is that the person
who is injured goes in for follow-ups with a physician and the injured person is really told nothing that would indicate when the symptoms will go away, what the future is likely to bring, or in fact exactly what is wrong. That is because the physician probably does not know what the outcome is likely to be.
What is frustrating about these injuries is that the progress of the recovery from the injuries is unpredictable. Further, the symptoms seem to come and go. Just as the patient thinks that he or she has recovered, some little thing will happen and symptomatically the injured person is right back in the same condition as they were within a few days of the injury.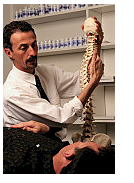 Accident injuries are sometimes quite unpredictable and chiropractors would agree that some injuries can be prolonged, unfortunately. One prevailing medical attitude to these injuries is that the patient will get better with time. Most patients will, but when and how are unknown. There is also some controversy with respect to how well the injury victim will recover without other assistance. In severe cases of injuries, there may be no recovery to a normal state prior to the accident and the injured may have to live with injuries to the end of their life.
There are a couple of advantages to seeking chiropractic treatment early on with soft tissue injuries. A chiropractor is actually going to do something as opposed to taking a wait-and-see approach. A chiropractor is actually going to place his or her hands on the patient's body periodically over a period of months and do something that the chiropractor's education, training and experience has indicated to the chiropractor will have an effect towards healing.
During and after the treatment, the chiropractor can be expected to have an opinion with respect to the nature of the injury experienced, the effect that the treatment will or has had, and what the patient's long term outlook for the injuries is likely to be. Having this information is extremely useful in trying to reach a resolution of the patient's legal claim against the person who caused the injury and their insurer, who in the end will be pay for the treatment. Claims that are lacking this information mostly do not resolve very well.
Catastrohic injuries caused by severe accidents, such as drunk driving DWI/DUI
Victims who have suffered a catastrophic injury as a result of an auto accident, drunk driver accident, or other personal injury accident deserves an experienced Washington/Oregon personal injury attorney to represent their claim and protect their rights to all the compensation for damages caused, including lost wages, pain and suffering, and medical expenses.
If you have been injured in an accident and you believe that someone else is responsible for causing the accident and you are worried and confused about all the legal ramifications, medical expenses, litigation, protecting your rights and dealing with insurance companies and their adjusters, contact us for all your questions and concerns. I have not attempted to give you all the advice that you might need here, and the advice may differ with the circumstances. If you are interested in exploring representation on your claim, feel free to give me a call. The initial consultation is free and there is no obligation to acquire our services.