There are a couple of common ways that commercial trucks and 18-wheelers cause collisions. First the truck simply runs into the back of a car or another truck. Second the truck changes lanes into a lane occupied by a car or another trucks. And third, the truck driver loses control of the truck for any number of reasons. One could be that the truck is traveling too fast for the road that it is on.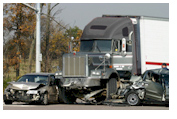 The road conditions could be less than ideal, as for instance during heavy rain. It might be that the trucks load is not satisfactorily secured and moves while the truck is under way. The truck could have an equipment failure, such as if a tire were to blow, a condition that is much more difficult to deal with driving a truck than in driving a car. And the road may be a poorly constructed, old or not very well-maintained road.


Truck Accident And negligence, by: Accident Attorney Vancouver WA
There are acts of negligence by trucking companies or their drivers that cause these collisions. Trucks are improperly maintained, which leads to equipment failure, or that creates difficulty for a driver of a large commercial truck or 18-wheeler while attempting to negotiate heavy traffic.
Another example would be poorly maintained brakes. Driving too fast in bad weather, or on old or worn-out roads. Attempting to roll a big truck through cross walks or intersections without coming to a complete stop. Or not paying attention while driving.
Truck Accident Investigations, by: Accident Attorney Vancovuer WA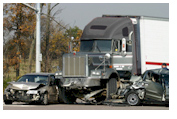 When a collision occurs, any of these circumstances may require investigation to preserve evidence that is necessary to establish and prove what actually happened. It is common for victims of these injuries to assume that this is being done by insurance companies. Invariably the injury victim's insurance company is not doing any such investigation, certainly not adequately. Any the results of any investigation by the trucking company's insurer will be used only to bolster their claim that the trucking company or its driver did nothing wrong; the results of the investigation that favor the injury victim will never be shared.
What Can Truck Accident Attorney Do For You?
Often truck accidents cause awful injuries such as spinal injuries and occasionally even very serious injuries that may very lengthy recovering time and certainly need longterm care and medical attention. Trucks and buses are much than other road users and hence can cause much more serious injuries against other motor vehciles and even worse, pedestrians, motorcyclists, and bicyclists. Unfortunately, truck accidents cause more wrongful death accidents than other motor vehicle operators, since such accidents involves serious injuries or even death. Most accidents can be traced back to reckless behavior from a specific party either by speeding or disregard for traffic signals and/or signs and regulations. Many times, truck accidents are caused by drivers that don't practice safe vehicle operation, driving long hours without taking a break, and reckless/negligent behavior.
Choosing Highly Experienced Truck Accident Attorney Vancovuer WA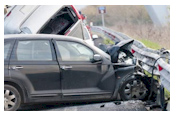 People injured by trucking negligence are best served if there is an experienced lawyer acting on their behalf. It costs you nothing to contact me to arrange a consultation to review the circumstances of the collision in which you or your loved one was injured. You can call (360) 980-1105. You can contact Jim Sellers online here.
Other useful personal injury articles for your reading:
Auto Insurance Requirements for drivers in Oregon State
Auto Insurance Requirements for drivers in Washington State
DUI/DWI Victim of Injury Caused By Drunk Driver
Injury Claim Value as a Result of Continuous Care
Insurance Claim Processing Tactics
Oregon Automobile PIP Requirements
Pedestrian Presonal Injury Claim
Repaying Insurance Companies After Settlement
Repaying Your Insurance Company after Settlement
Should I Get a Personal Injury Attorney
Soft Tissue Injuries May Require a Professional Chiropractic Care
Tort Law Reform and Valuation in Personal Injury Cases
Truck Accident Recovering Compensation "Need-to-know"
Washington PIP Requirements for drivers
When To Settle Personal Injury Claims
Wrongful Death Personal Injury Claims