There are minimum insurance requirements in state of Oregon (for Washington state minimum requirements, click here). This section is intended to give you some idea of what kind of auto insurance that an at-fault driver might have if the driver is complying with the law. This section is not intended to help determine what is required to comply with minimum requirements, which can vary.

In the State of Oregon, the minimum auto insurance requirements are as follows:
$25,000 per person for bodily and property damage.

$10,000 per crash for others' property damage.

$50,000 per crash for bodily injury to others.

$15,000 of Personal Injury Protection (PIP) for expenses after the crash.

$25,000 per person/$50,000 per crash of Uninsured Motorist Coverage.

For vehicles weighing more than 26,000 pounds, $750,000 in liability coverage.
In Oregon, the following types of vehicles are exempt from insurance requirements:
Antique cars or collector cars used only for shows or the like.

Farm tractors or trailers.

Snowmobiles.

Non-operational vehicles.

Motor-assisted scooters and electronic personal motility devices, such as a Segway.
Commercial vehicles, such as 18-wheelers, generally have $1,000,000 in liability coverage.
Helping you get the financial compensation you deserve
Victims who have suffered a catastrophic injury as a result of an auto accident, drunk driver accident, or other personal injury accident deserves an experienced Washington/Oregon personal injury attorney to represent their claim and protect their rights to all the compensation for damages caused, including lost wages, pain and suffering, and medical expenses. Our law firm represents individuals and families throughout Washington and Oregon. We can help with a wide variety of personal injury matters. Our main area of expertise include:
Motor vehicle accidents

Trucking Accidents

Accidents caused by drunk (DUI/DWI) drivers

Wrongful death

Brain injuries, spinal injuries and burns

and other personal injuries
Need an experienced personal injury attorney in portland oregon?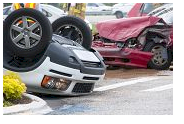 The moment you call our office, we will help you with your case to put your life back together by helping you get fair compensation in order to focus on recovering the life and lifestyle you had before you were injured. If you need an accident attorney, you can hardly find anyone as experienced and knowledgeable as Mr. James Sellers. In 1995, Mr. Sellers was the only recipient of WSTLA's President's Award. The legislative steering committee that Mr. Sellers chaired actively works on legislative proposals to protect the rights of victims of personal injury.